Rebekah Posted on July 28 2023
We often get customers who want to wallpaper multiple walls. This is possible and often looks fantastic. However with everything there are some logistics to consider.
Remember the old days when everybody wallpapered all four walls? Did you ever notice the corners pulling away? That is because they literally just used to wrap the wallpaper around the corner. But over time this would 'pull away' and create a bubbly looking corner.
Cutting in to the corners doesn't really work either as it creates gaps. No wall is ever 100% straight. So cutting into the corner can create gaps. Its ok if your wallpaper is one colour. Say black and you paint the corner in the same black so any 'gaps' are hidden.
Check out the photo below where you can see the white wall showing through.
These days most installers do not 'wrap' wallpaper around the wall. They 'cut in'.  This involves wrapping around the wall by 2 - 5cm and then wallpapering over the 2 - 5cm. The image below shows the 2 -5 cm overlap. Image below illustrates the corner being prepared. You will notice a 5cm overlap. Depending where the pattern starts and finishes as opposed to where it ends in the corner - you maybe be able to match up.
This will ensure that the wallpaper does not pull up over time. But it can have other consequences for patterning. It means your patterns may not match up perfectly by 2cm. 
If I didn't tell you about this not lining up - you probably wouldn't have even notices. Some designs you might not notice at all. 
Look at our Kingfisher Mural. The leaves are very large and oversize so you can hardly notice. If you look to the bottom though you can see where it doesn't quite match up. But you may have this on any corner if the walls are imperfect.
Ordinarily I would move the bird to not be in the corner so when you wrap around the bird won't be affected. But in this instance the customer wanted it there.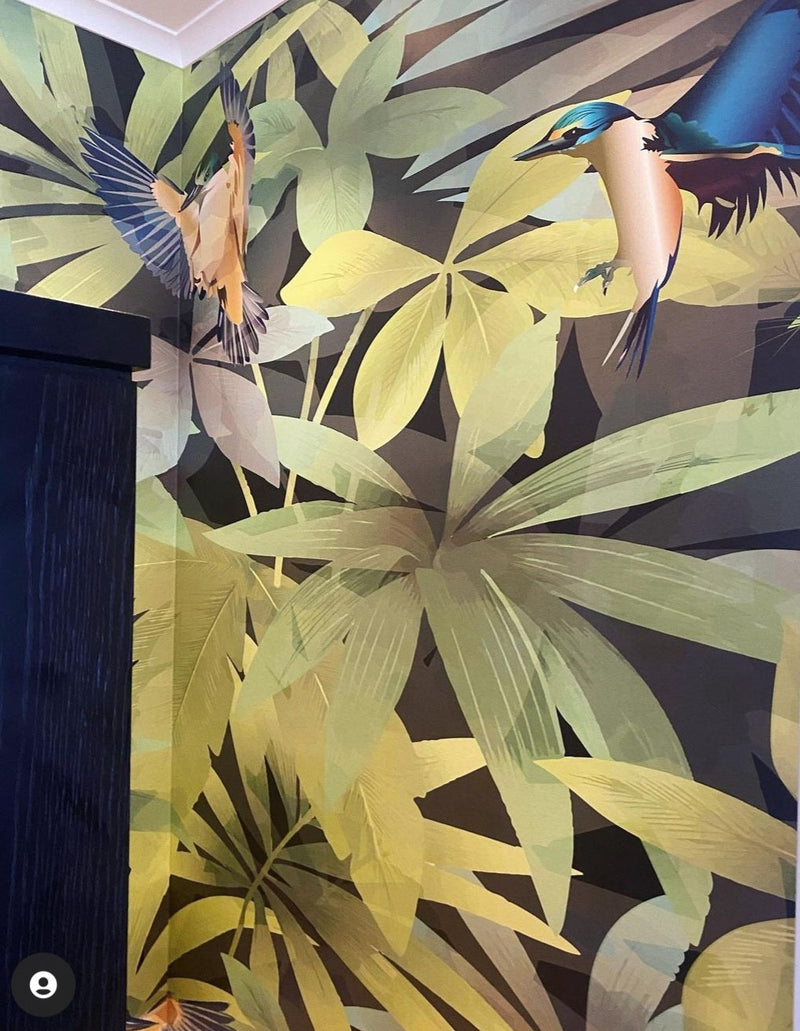 The other thing people do in corners if they don't want the pattern to misalign is to use framing or a dado line in the corner. This can look quite smart.
Here is a picture from Rockpool bar and café in Christchurch using our Bouquet wallpaper. Here they have wrapped around a corner and actually have a bigger overlap in the corner. Around 10cm and have lined it up quite nicely so the pattern repeats. An excellent install. Look closely and you can eventually see the join.